Your Hosts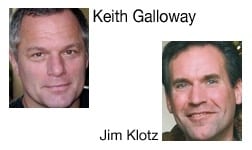 Keith:
I spent my first 30 years in Chicago, followed by 20 years in Manhattan and since 2005 I've been in Savannah.
In early 1995 I was living and working in Manhattan, on a Friday afternoon, after a 3 martini lunch and a few months shy of turning 40, I quit my job in Manhattan, a month later I got on a plane headed east and 6 months later return from the west, having traveled through Italy, France, Spain, Portugal, Morrocco, Egypt, Pakistan, Dubai, India, China, Nepal, Bangladesh, Myanmar, Laos, Thailand, Vietnam, Malaysia, Hong Kong, Macao, Singapore, Indonesia, and Japan. I'd spent my 40th in a Casablanca nightclub watching belly dancers that were as old and large as they were talented. On other trips, I've traveled through most of Central and South America, Northern and Western Europe, parts of Eastern Europe, Iceland, and Turkey.
In 2005 I came to Savannah looking for a 2nd home and met Jim at a rug auction. A few months later I found this house, it had been vacant for decades and was in pretty rough condition. My real estate agent said I should buy it, fix it up and then rent out the apartments to college students who would pay enough to cover the mortgage! Then someone who lived nearby told me I shouldn't buy it because I was from New York and didn't know what I was doing, so the next day I bought it and moved in with two rescued Great Danes, Charlie and Moose. A year and 9 months later, I woke up on a Monday morning and told all the carpenters and painters that I had had enough,  Friday was their last day, and anything left unfinished would just have to wait.
In 2006 and 2007 I rented a couple of the apartments to some grad students but realized the cost to maintain a house of this size was far more than most of them would pay, so I had to come up with a Plan B. I took up a couple of pictures of the outside of the house, copied some generic living room and bedroom pictures off of the Internet, and used them to create a listing on VRBO.com (Vacation Rental by Owner.com). In July 2007 we got our first reservation and as the students graduated I added their apartments to the VRBO listing. From there things just took off, there was no looking back and I eventually sold my place in Manhattan.
---
Jim:
Jim is from Baldwinsville, NY and was Exec. Director at Walt Disney World Hotels in Orlando, FL and later at the Weston Hotel in Savannah. He also has four great kids that he does everything for.
Over the last 20 years we've rescued 7 Great Danes, 5 have passed and now we have Emma and Hudson.