"Historic Savannah's hidden gem!" Southern Living Magazine


---
---
2 bedrooms, king & queen & 2 baths, main house 1st fl.
---
1 queen Bedroom 1  bath, carriage house 1st fl.
---
1 king Bedroom 1 bath, carriage house 2nd fl.
---
1 queen bed and bath, main house 3rd fl. walk-up
---
Owners Apartment
main house, 2nd fl.
---
rates include:
breakfast:
100% Arabica whole bean coffee
selection of teas
Minute Maid 100% pure orange juice
bottled water
bagels
muffins
granola bars
Chobani  yogurt
Secure Wi-Fi
Off Street Parking
Rain Fall Shower Heads
HDTV, 250 channels & HBO
Savannah maps, guide books and magazines
A chilled bottle of pino grigro on arrival
---
---
YOUR HOSTS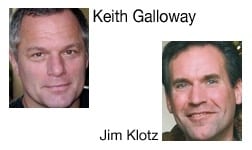 ---
---
A brief history…
Today The Galloway House is our home and was built as a single family home in 1895. In 2005 and 2006 between 20 to 25 people worked a year and nine months to completely restore the main house and carriage house. Today the house is stronger, safer and more comfortable than the day it was built so it should easily stand for another 120 years.
---
Guest Comments:
Every apartment has a guest book and we have begun to transcribe the comments of our guests. We hope our future guests will find them helpful.
Dear Keith,
I don't want to go home! It would be impossible to delineate highlights as everything was perfect. The new Jepson Center for the Arts was especially wonderful. The joint ticket they offer with the Telfair and Owens Thomas House saved beau coup bucks, thanks for the suggestion! Thank God for long morning walks up to the Savannah River . The food would have blown me out of my britches other wise – tres yummy!
Hope you let us visit the Galloway House Inn again!
Thanks,
Jess and Scott,
Athens, GA

Keith,
Thank you so much for this great inn! The carriage house is a fantastic place to come back and rest after a long day of tours, eating and enjoying the beautiful city of Savannah. This really was another home to us for these few days and we really appreciate it.
We hope to come back and visit the Galloway House Inn and the fine city of Savannah.
Thanks again,
Ryan M. and Brian C.
Atlanta GA

June 2012
As all of your other guest of said, thank you for a wonderful and very comfortable place to stay.
The carriage house definitely is a home away from home. I've been coming to Savannah at least twice a year for five years. I've stayed at many places but none anywhere near as comforting and welcoming and clean! Your passion and attention to detail is evident. I also enjoyed seeing the photos the renovation you went through on the property, what an amazing transformation!
What vision for the beautiful gardens in the courtyard! Love it all! I only wish that I had gotten to meet your boys, beautiful great Danes and had more time to chat with you guys!
I'll be back and will recommend your inn to everyone!
Thanks again and see you soon,
Erica and Richard,
Lexington, KY

Keith,
We truly enjoyed our stay in the carriage house of your beautiful inn. We were very comfortable and it's quite home like. Our visit to you city of Savannah was so much fun we hope to get back one day.
Thank you for your hospitality,
Ray and Leslie B.
Marietta, GA

Thanks for the rescue! The information helped a great deal to enjoy this wonderful place. Your inn is great!
James H. – Washington DC

Keith and Jim,
We can not say enough kind things about you inn, we had a fabulous time here and will be back! We loved having access to the bikes and getting to explore Savannah, what a special place, we will certainly be back for many more anniversaries!
Love, Brandy and Moose Orlando, FL
P.S. She said YES!!!
(Moose proposed to Brandy while staying at the Galloway House)

Beautiful city! Beautiful inn! Great times in Savannah with our relatives!
Johnny and Liz
Athens, Georgia

I've never been to Savannah before, but I loved it and would love to come back!
The Galloway House Inn made it even better and way better than a hotel!
Emma and Becky

Dear Keith, (Our hero!)
We can't say enough about you, your beautiful home and those beautiful dogs. You have been a spectacular host and we are in love with the house. This was the BEST place to stay and we are already thinking about a return trip. You were so great with suggestions, advice and directions. We are in love with your city. We also felt very comfortable staying with a fellow "Yankee" down here. Please, please look us up when you come to New York and we'll meet you in the city for drinks! Kiss the dogs goodbye for us!
We love you,
Barbara G. and Ellen C.
Long Island NY

Dear Keith,
We loved our stay here at the Galloway House Inn!
So comfortable, clean and tastefully done. Savanna is a wonderfully designed city! Easy to navigate. Our favorite place to eat was Elizabeth's on 32nd St., so delicious, hope to come back soon!
Janet, Atlanta
Cheryl, New York

Keith,
We truly appreciated your "Southern Hospitality" It's wonderful to have a host who is willing to take the time to sit down and just talk. Your place is much more relaxing, comfortable and surprisingly cost efficient. We will definitely recommend your inn to friends and family!We thank you again,Wes & SarahBlount Springs FL
Dear Keith / Jim,
Sorry –  a hurried note, but want to thank you so much for the "homey" accommodations so far away from our Seattle home. You have created a little lush tropical piece of heaven which we have thoroughly enjoyed. And we have also loved watch the birds and squirrels romp in your garden.
Give Scooter, Moose and Charlie a good chest rub for us!
Take care, John and Shirley B.

WOW! We LOVE Savannah! We consider ourselves "Southerners" but the hospitality and ante bellum southern atmosphere reign true here!
Keith is a gracious and magnanimous host. We enjoyed his affable conversation on the porch and adored his three 'kids' Charlie, Moose and Scooter – the Great Danes.
His home / inn is opulent and the plants are an amazing embellishment. We felt like we were staying inside "Southern Living Magazine".
This inn was the perfect getaway. Pizza Rustica was phenomenal and we had Kilwin's ice cream EVERY night for desert. Make the trip to Tybee Beach, it was worth it! Don't forget to take the 9pm walking ghost tour with Margarite at the corner of York and Bull. There is so much to do here that we feel we must return!
Thanks and God Bless!
Jennifer and Clint, Walton, KY
P.S. Keith, we're glad you ditched NYC!

Keith, Jim and Tori,
This inn is a piece of heaven! We are so glad we are here for our mini-vacation Each of us decided to tell you our favorite parts: Andi (age 7) – I like the living room. Perry (age 12) – I really like everything. You don't get to know our ages but just know we loved the comfy bed, the wonderful shower, the delicious bagels and muffins, etc.
The K. Family

Brought Spike, our dog, and he loves Savannah and Moose (one of Keith's three Great Danes).
Liked A. J.'s on Tybee and ate lunch at Uncle Bubba's, much easier to get into than Paula Deen's Lady and Sons, food was okay and view was terrific.
Do the ghost tour, even in the rain it was fun!
Best was coming back to this inn, a tropical paradise, genial hosts, wonderful bed and plentiful air conditioning!
Had a great time!
Linda and Tom C.

Dear Keith and Jim,
The inn was in a word "wonderful!" It's charm and love is the perfect 'home away from home' to have while visiting this step back in time . Whether is was sitting on the porch, relaxing on the couch, napping to recharge the bones or reading the sunroom, the Galloway House Bed Inn is a place we will always remember and recommend.
My wife and I had to get away for a 5th anniversary and her XXth birthday and we found the perfect spot to spend it with a true friend like Kevin, in a place like this has been the perfect touch.
To all who come; open your heart and let the house, the dogs, Keith and Jim love on you for a while!
Love, Eric, Missy and Kevin, FL

Dear Keith,
Thank you for welcoming us into your beautiful home and inn! My family had a wonderful and relaxing visit in Savannah. We all had a great time here, including our dog!
Thanks again for everything,
Lillian H. and Family, Decatur and Stone mountain GA, London, England